Alternative Recreation (Special Needs Rec)
The Alternative Recreation Program is committed to offering affordable year-round recreational and social activities for individuals with developmental and other disabilities that may hinder their ability to participate in other recreation programs. Our dedicated Alt-Rec staff provide a wide range of exciting activities, such as recreational sports, cooking classes, free monthly dances, social gatherings, and fun-filled field trips!
About Alt-Rec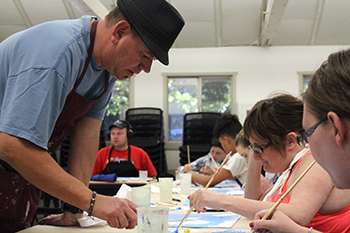 Most RSRPD activities are available for all to participate in. To evaluate and to reasonably accommodate your individual needs; we ask you to let us know of any requested modification at the time of registration. Programs and events have limited space; registration is required 48 hours before each event. Some trips/classes may require more advanced registration as noted in the description. Activities are subject to cancellation if minimum enrollments are not met. Outdoor activities are subject to cancellation due to inclement weather, however make-up classes will be arranged.
Registrations can be completed ONLINE by clicking HERE or in person at one of the following community centers:

RANCHO SIMI DISTRICT OFFICE & ACTIVITY CENTER
4201 Guardian St., Simi Valley, CA 93063
(805) 584-4400

RANCHO SANTA SUSANA COMMUNITY CENTER
5005-C Los Angeles Ave., Simi Valley, CA 93063
(805) 584-4456


Volunteers

Volunteering is one of the best ways to make a difference in your community! Alt-Rec is always in need of quality volunteers ages 13 and older, including those who need school service hours. Activities include sports, dances, classes, and events. For more information or to register as a volunteer, click here

Participant Drop-off & Pick-up Policy:
All activities are closely supervised, and staff is scheduled according to the individual needs of the program. Participants should not be dropped off early and must be picked up promptly. District policy prohibits staff from transporting participants home. Any participant not picked up within 30 minutes of the conclusion of an activity may be released into the custody of the Simi Valley Police Department. The reoccurrence of late pick up may be grounds for exclusion from future participation.
Click the link below to view some fantastic snap shots from the Alt-Rec Prom!
https://flic.kr/s/aHBqjAF4AQ